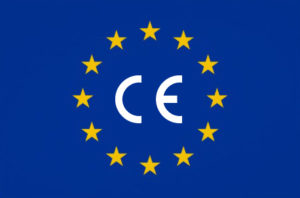 Published in 2011, the Construction Products Regulation (CPR) defines the fire performance of all construction products. Under this regulation, all construction products and building materials installed in the European Union (EU) must contain the CE mark that provides proof of compliance.
How Does CPR and the CE Mark Relate to Communications Cable?
As of 10th June 2016, copper and fiber telecommunications cabling is now subject to the CPR with a one year transition period. This means that as of 1st July 2017, all copper and fiber cables supplied to EU member states must comply with the regulation and carry the CE marking. With CPR specifications developed and adopted by EU member states, the regulation facilitates trade between EU member states for any construction products that are intended to be permanently incorporated into a building.
It's important to note that the CE mark does denote quality—it means that the product meets standards for health, safety and economy of energy. It also only relates to cables intended for permanent installation, which excludes non-fixed cabling infrastructure components such as patch cords and jumpers.
For more background on CPR, visit: https://ec.europa.eu/growth/sectors/construction/product-regulation_en
 What are Euroclasses?
Under the CPR, existing IEC 60332 flammability ratings will be replaced by different reaction to fire performance known as Euroclasses. There are seven Euroclasses—A, B1, B2, C, D, E, and F—whereby A is the most flame retardant and F is the least. The requirements for the Euroclasses are outlined in the recently published standard EN50575, Power, control and communication cables – Cables for general applications in construction works subject to reaction to fire requirements.
 Who Determines what Euroclass is Required?
EU member states are required to follow CPR and each EU member state will decide which Euroclasses to adopt for their specific construction standards and regulations. Euroclasses B through D are considered low fire hazard cables and must meet EN 50399 Flame Spread testing in addition to EN 60332-1-2 while Euroclass E need only meet EN 60332-1-2 and Euroclass F has no determined performance. Broad use of Euroclass D and E is expected for residential and standard commercial premises throughout the EU.
 How Does the Regulation Impact Cabling Manufacturers?
Any cable manufacturer wishing to sell fiber and copper communications cable into EU is required to test their cables for CPR compliance with a "notified body" required to certify test results. Manufacturers must then draw up a Declaration of Performance (DoP) and affix the CE mark to its cable products and product labels. The purpose of the DoP is to hold manufactures responsible for conforming to the declared specification. As previously noted, all manufacturers supplying copper and fiber cables to EU member states must issue a DoP and affix CE marking to cable by 1st July 2017.
 What is Siemon Doing to Prepare for CPR Compliance?
As a leader in the structured cabling industry, Siemon is currently working with Notified Bodies to test its existing copper and fiber cables and establish Euroclass specifications. We are on schedule to receive Euroclass D and E certification for the bulk of our copper and fiber cables and are targeting to offer CPR compliant product with CE marking by the end of this calendar year. Further communication regarding product availability will be forth coming, and Siemon will continue to monitor all standards, trends and adopted Euroclasses within the EU and adapt cables where necessary.