Looking to speed-up data center deployment by reducing the labor and time required to go live? Preconfigured data center cabinets are pre-assembled and packaged with all the components pre-mounted, arriving on site ready to make the final connections and install any active equipment. Preconfigured cabinets come preloaded with fiber or copper connectivity, power distribution units (PDUs), cable management or other accessories to reduce deployment time and labor by up to 30%!
Each preconfigured cabinet with its preloaded components is identified by one unique customer-specific part number and price, meaning it's simple and convenient to order identical cabinets when needed. Preconfigured cabinets can also be predesigned based on function or application, which works well with data centers that use repeatable cabinet designs in pod configurations.
Because the components are preloaded and packaged at manufacturing facilities, consistency and quality can be more easily maintained compared to the field where installation environments and skill level can vary considerably. With preloaded components, packaging and waste are also significantly reduced, which makes preconfigured cabinets a much greener option. With cabinets and components from the same manufacturer, there is also a common look to the data center that improves overall aesthetics.
Based on a recent study conducted for a well-known global data center services provider, an 18-cabinet data center pod deployment using preconfigured cabinets was compared to a pod deployment using traditional cabinets where each component had to be unpacked and installed. Ultimately, using preconfigured cabinets took just 284 labor hours for deployment, while using individual components took 400 hours for deployment. The difference in labor costs was $5140 compared to $7240.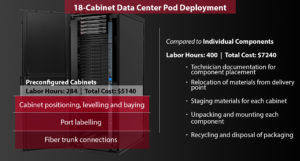 As part of Siemon's WheelHouse™ Advanced Data Center Solutions, Siemon offers V-Built™ Preconfigured Data Center Cabinets with Siemon VersaPOD®, V800, V600 and Wall Mount Cabinets and preloaded with Siemon components. Identified by one customer-specific part number and price, these preloaded cabinets are assembled and packaged at regional Siemon manufacturing facilities and delivered to the site ready to connect the cabling and install active equipment.
For more information visit www.siemon.com/wheelhouse