When it comes to being green, Siemon has lon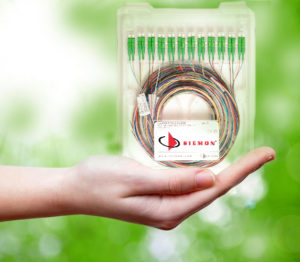 g been committed to protecting and preserving our environment through continual improvement in the sales, marketing, design, manufacture and resale of IT infrastructure and OEM components and systems. From our global environmental management systems that has been certified to ISO 14001 standards, to our zero-landfill status with a 179% carbon negative footprint across all global operations, Siemon is committed to conducting business in an environmentally responsible and ethical manner. And we strive to provide our customers with options that lets them be green along with us.
One way we help our customers to be green is through packaging. While it may seem like a small effort compared to Siemon's larger green initiatives like our 15,600 square-foot solar power plant or the recycling of 99% of our manufacturing waste, when you consider the potential amount of packaging to thousands of customers around the world, it can certainly add up—not to mention the fact that the more packages that need to be opened and disposed means more time and labor for our customers.
Offering bulk packaging options to our customers is one way to significantly reduce waste out in the field. Siemon offers bulk packaging on many of its components, and we are always looking for new ways to do this. For example, we recently announced the addition of a bulk packaging option for our line of XGLO® Fiber Optical Pigtails. An expansion to its line of Lighthouse Advanced Fiber Cabling Solutions, these 900-micron buffered pigtails are security packaged in a protective recyclable container, eliminating individual bags for reduced installation time, freight and waste. Ideal for splicing applications and available in OM3 and OM4 multimode and singlemode fiber types, these bulk fiber pigtails also cost less than non-bulk pigtails to help our customers lower their total bill of material cost.
So whether it's a Siemon V-Built preconfigured cabinet that comes with connectivity, PDUs and cable management preloaded, or something as simple as a bulk package of copper patch cords or fiber pigtails, remember that packaging matters when it comes to being green. For more information on Siemon's environmental stewardship, visit www.siemon.com/green.