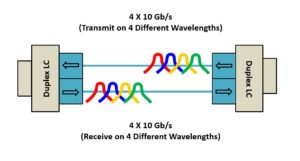 Wideband multimode fiber (WBMMF), officially designated as OM5, is a recently released fiber medium that is now recognized within both the Telecommunications Industry Association (TIA) and International Electrotechnical Commission (IEC) standards. OM5 fiber specifies a wider range of wavelengths between 840 and 953nm to support wave division multiplexing (WDM) technology and is fully backwards compatible with existing OM4 fiber specifications.
WDM technology provides the capability to either increase transmission speeds or reduce fiber strand counts by a factor of 4. For example, using standard OM3 or OM4 multimode fiber, 100 gigabit speeds require the use of 8-fibers via 100GBASE-SR4. In contrast, using 25GBASE-SR specifications, 100 gigabit OM5 fiber links could be created using 2-fiber 25 gigabit channels on 4 different wavelengths. Similarly, using 100GBASE-SR4 specifications, 400 gigabit OM5 fiber links could be created using 8-fiber 100 gigabit channels on 4 different wavelengths.
However, it is important to note that there are no applications currently under development within the Institute of Electrical and Electronics Engineers (IEEE) to operate over this medium. In addition, because IEEE typically develops applications based on a significant installed base, it is not certain when and if any application will be developed. Further, OM5 carries a significant cost premium over OM4 and a premium will also apply to any future transmission equipment.
The recent release of IEEE 802.3by-2016 (25GBASE-SR) and the pending IEEE P802.3cd (50GBASE-SR) – anticipated to release in 2018 – demonstrates IEEE's commitment to the development of higher capacity applications over the installed base of OM3 and OM4 multimode fiber. There is also work on singlemode technologies for short reach (500m) applications via the pending IEEE P802.3cd (100GBASE-DR) and IEEE P802.3bs (200GBASE-DR4/400GBASE-DR4) that may provide a case for singlemode fiber to be considered.
As a result of this pricing premium and application uncertainty, at this time Siemon still recommends deployment of OM3 or OM4 8-fiber MPO/MTP connectivity for seamless migration from current standards-based 2-fiber (10GBASE-SR, 25GBASE-SR) and 8-fiber (40GBASE-SR4, 100GBASE-SR4) applications to future applications.
To access our full line of OM3 and OM4 LightHouse™ Advanced Fiber Solutions, visit www.siemon.com/lighthouse