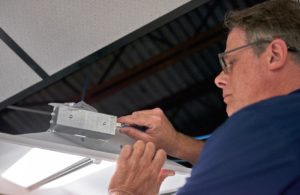 As intelligent lighting systems continue to see substantial growth year after year, it's beneficial for infrastructure designers to have a comprehensive understanding on the deployment and installation of these systems. In fact, Power over Ethernet (PoE) lighting currently illuminates over one billion square feet of commercial space globally, and it is estimated the number of smart lighting deployments will grow from 46 million units in 2015 to 2.54 billion in 2020!
The driving factors behind its increasing popularity include the ease and benefits that accompany using Ethernet communication for control and deploying remote powering technology, such as 60-watt PoE. These PoE lighting systems rely on a well-designed infrastructure of high performance balanced twisted-pair cabling, network electronics, and software connecting and communicating with Internet Protocol addressable luminaires, dimmers, sensors, and controllers to deliver maximum performance.
PoE lighting luminaires typically use light emitting diode (LED) technology, which offers the added benefits of lower power consumption and less heat generation than other luminaire design alternatives, while lowering capital lighting investment, improving safety and comfort, and integrating with all Internet of Things (IoT)-enabled building automation systems.
A wide range of expertise is needed to specify, install and manage the many components in a PoE lighting system. Zone cabling is ideally suited for these deployments and infrastructure designers should be knowledgeable and prepared to adapt this cost-effective and efficient standards-based design.
Siemon's newly created guide: Zone Cabling and Coverage Area Planning Guide: 60W PoE Lighting Applications is a valuable tool for designers and architects to utilize when planning PoE lighting systems within highly automated building spaces. This guide covers the areas of design and deployment, installation recommendations, integration with IoT applications, zone cabling for PoE lighting, coverage areas, location of zone enclosures, and more.
Learn more about PoE Lighting Applications for intelligent buildings and access the new planning guide at www.siemon.com/poelighting