The TIA TR-42.7 Copper Cabling Subcommittee confirmed industry interest in a greater than 10 Gb/s copper-based Ethernet application when the following new cabling project was initiated in February, 2011:
Project Title: Specifications for 100Ω Next Generation Cabling

Scope: Develop a new category of cabling to support future applications beyond 10GBASE-T.

Justification: A new category of cabling to support increased capacity for future applications.
Next Generation Cabling performance parameters, which are anticipated to be published in addendum 1 to ANSI/TIA-568-C.2 in 2014, are being concurrently investigated by four task groups focused on the subjects of Application Space, Capacity, Cables, and Connectors. Siemon is committed to supporting both this project and next generation Ethernet applications. In fact, Brian Celella of Siemon is Chairing the Next Generation Connector task group and Valerie Maguire, also of Siemon and the author of this blog, is the Document Editor.
The scope of this exciting new project is converging and the TIA TR-42.7 Copper Cabling Subcommittee adopted the following baseline objectives for Next Generation Cabling in October, 2011: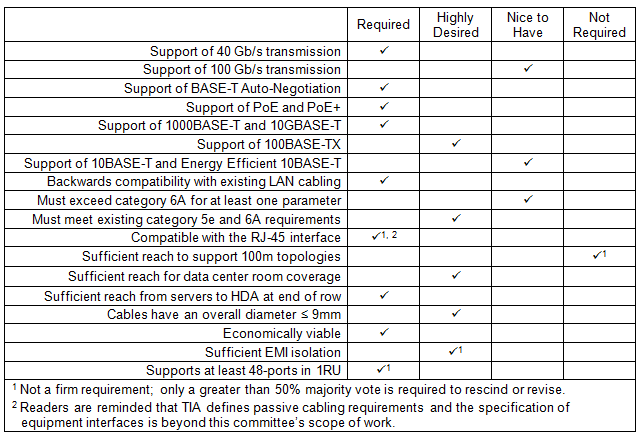 While there is no formal IEEE 802.3 project Call-For-Interest at this time, all early indicators show that there is great industry commitment to and investment in the future of copper-based Ethernet. Siemon expects this application to continue to evolve with ever increasing data carrying capability well into the foreseeable future.