It is OK to raise temperatures in the data center?
According to the American Society of Heating, Refrigerating and Air­ Conditioning Engineers (ASHRAE) and equipment manufacturers, it is.
New recommendations in ASHRAE 72-­74 (22-­23C) suggest it is no longer necessary to keep data cen­ters at 68­-69 degrees.
So, how does this relate to network cabling and data center cabinet selection?
Warmer overall temperatures in the data center can cause a chain reaction that gives shielded cabling and VersaPOD a competitive advantage.
The warmer the air that goes into the front of servers and switches, ­the warmer the air that comes out the back. In most cases, the ca­bling is in the rear of the server cabinets, and the patching is at the top ­right in the path of higher temperature airflow. (see image)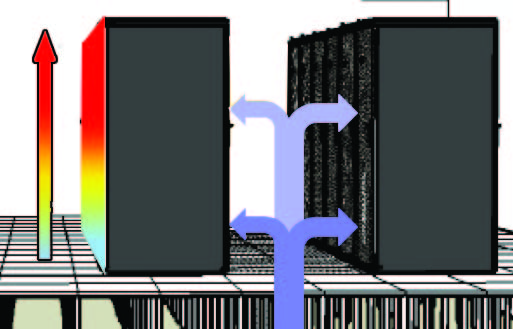 Cabling system performance can be adversely affected by heat and should be derated accordingly. Shielded systems are more tem­perature resistant than UTP, re­quiring as little as half the temperature derating of UTP. This means that shielded systems are better suited to higher temperature data center environments.  Learn more about the advantages of shielded cabling in the Shielded Copper Cabling Resource Center.
With Siemon VersaPOD data center cabinets, cabling is routed in the Zero­-U vertical spaces between bayed cabinets and out of the hot zone at the top of the cabinet, further protecting cabling from the potential effects of hotter data centers.  Learn more about the VersaPOD data center cabinet's additional thermal management and Zero-U capabilities.