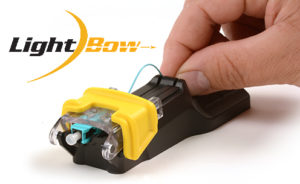 Fast deployment and superior reliability are of the utmost importance in today's fiber networks, which is why many data centers deploy plug-and-play preterminated assemblies – especially for high speed 40 and 100 Gigabit applications that require factory-terminated MPO/MTP style connectivity. But many installation scenarios still benefit from the flexibility of multimode and singlemode duplex fiber field terminations.
When it comes to fiber field termination, quality connections are often directly related to the skill level and experience of the technician performing the termination, and verification is a critical step to ensure that the terminated connectors will reliably transmit the signal. For example, dirty fiber end faces and air gaps between fiber end faces can cause insertion loss and return loss that result in degraded network performance, retransmits or even non-functioning fiber links. And because there are far more steps involved in fiber field termination versus using preterminated fiber assemblies, field termination also results in higher labor costs and slower deployments.
Fiber field termination systems therefore need to offer quick and easy terminations while ensuring consistently high performance connections and the ability to verify that a quality connection has been made. Thankfully, Siemon's LightBow™ Fiber Termination System provides ALL of these benefits – speed, performance, reliability and the ability to verify the connection.
LightBow's exclusive patent-pending termination tool dramatically reduces termination time by combining both splice activation and crimping in a single, optimized step and providing universal LC and SC connector compatibility with no time-consuming changeover. It also features integrated LC and SC strip templates molded right into the tool to ensure proper strip length of the fiber. To deliver superior consistent performance, the tool simplifies fiber insertion while its patent-pending bow feature maintains proper pressure of fiber ends during termination to eliminate air gaps. To further ensure reliability, the entire LightBow termination process is completed with the connector dust-cap in place, protecting the critical end face polish from contamination or damage.
And to immediately verify that a quality termination was achieved, LightBow pre-polished mechanical splice connectors feature a built-in verification window in the connector body for use with Siemon's 0.5mW output power, Laser Class 1 visual fault locator (VFL), which is available in the LightBow Fiber Termination Kit. And following termination verification, the LightBow system offers the unique ability to adjust the fiber or reterminate the connectors if needed.
To showcase the speed and efficiency of the LightBow Termination System, Siemon is hosting a contest available to Certified Installers (CI) in the US, Mexico and Canada from March 1st to July 31st 2017. For this contest, CIs perform a successful termination as quick as possible and submit their recorded times to Siemon via video.  Already, entries show termination times well under 30 seconds!!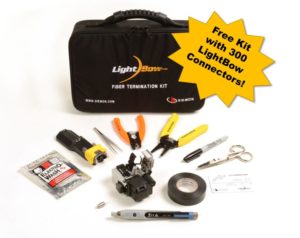 Siemon is also offering a FREE LightBow Termination Kit with the purchase of 300 LightBow Connectors. And the kit has EVERYTHING you need for terminations, including the patent-pending tool, the 0.5mW VFL, and a high precision cleaver with a long-lasting blade that lasts for 48,000 cleaves – all in a convenient carrying case.
Check out LightBow, the termination challenge and the free kit offer at: