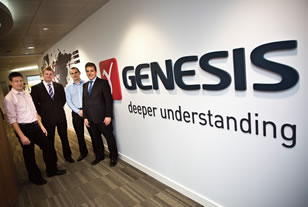 Siemon, a leading global infrastructure specialist, has delivered a complete end-to-end infrastructure upgrade for global oil and gas consultancy, Genesis, at its landmark new headquarters, overlooking St Paul's Cathedral in London. Described as 'the beginning of the future' for this 25-year-old energy industry specialist, these iconic offices will lead operations for its 16 sites around the world and provide innovative surroundings for up to 500 of its total global workforce of over 1,500.
Genesis supplies the upstream oil and gas industry, providing early phase engineering consultancy, full-lifecycle subsea engineering services and design of onshore and offshore projects. It helps its clients to maximise the financial return from their hydrocarbon assets and it demanded similar return on its investment in a brand new IT infrastructure.
The Genesis building is organised over six floors and so its network plan included five server rooms and one data centre/communications room, connected by Siemon's high quality OM3 fibre optic cable in the backbone. Given the challenging installation schedule, the fibre selected for the data centre was MTP plug-and-play, which guarantees maximum channel throughput and offers 75 per cent faster installation than on-site termination. With the requirement to support 10Gb/s, Siemon's Z-MAX® category 6A FUTP copper system was chosen. This system combines consistent best-in-class performance, unparalleled usability and speed of termination, with security and robust noise immunity. It provides the highest margins on all performance requirements for category 6A/class EA, including critical alien crosstalk parameters.
For its data centre Genesis ordered four thermally efficient VersaPOD cabinets, which uniquely offer zero-U patching capability to optimise space usage and air flow. As a company that innovates and embraces innovation, it chose to equip each VersaPOD with Siemon's new IcePack™ cooling doors. These rear door heat exchangers use passive liquid cooling technology and can deliver a cooling capacity of up to 33kW per cabinet. The close-coupled cooling system uses a specialised fin-and-tube coil which absorbs and cools heat exhaust from network equipment and dramatically reduces the requirement for other, more energy hungry, air cooling methods. The energy consumption of the IcePack system can reduce the cost or cooling by up to 80 per cent over traditional CRAC systems. Compared to most air-based cooling systems, they reduce noise levels as well.
According to Genesis, Siemon came highly recommended and, thanks to its complete end-to-end offering, it won the competitive tender to supply the complete network infrastructure. As global IT director, Stephen Golliker, explains, "Siemon offered a complete, best-in-class infrastructure, from the backbone to the desktop, with the best data centre products, including an exciting innovation in cooling. With network design experts ready to support us and a comprehensive 20 year warranty, it was clear that the value offered by Siemon went far beyond the superior performance of our chosen system."
Genesis' work is described as cutting edge and it expected the same innovative advantage from both the IT provisioned and the quality of installation. As a Siemon Certified Installer, with proven success for Genesis, Xtreme Business Solutions was the trusted partner chosen to lead the installation of the complete network.
Delivery of the new infrastructure was to a tightly time-controlled schedule that demanded complete transformation from an impressive shell to finished, fully operational state in just five months – all with a zerodowntime imperative. This meant that Siemon and Xtreme Business Solutions were amongst the first companies to send engineers to St Paul's in order to pull the 72km of cable required to flood the site.
Summing up the impact of the new infrastructure for Genesis, Stephen Golliker concludes, "Our IT is a showcase of quality and innovation that I'm very proud of – it allows us to work smarter and to consistently deliver world-leading service to our customers. This office is a considerable asset and will prove to be a big part of the Genesis story – it is the next step of our development as a company."